From hot sauce to popcorn: Get your truffle on with these must-try food items
Some ingredients just seem to have the power to take a dish up a notch, no matter how simple it is. Truffle is one of them. I remember what French author Jean Anthelme Brillat-Savarin, who wrote The Physiology of Taste, once said: "In fine, the truffle is the very diamond of gastronomy."
It's no surprise that Crème de la Crème Pomme Frites—the world's most expensive French fries in the Guinness World Records—features the goodness of truffle. Priced at $200 or P10,000 per serving, it has Guerande Truggle Salt, truffle oil, shaved black summer truffles from Italy, truffle butter, and Gruyere Truffled Swiss Raclette that has been aged for three months.
The versatility of this ingredient goes beyond the good ol' fries. Here are other offerings that show how truffle can work with various dishes—and be devoured in almost every way possible.
Living the cheesy life? You might love Gino's Brick Oven Pizza's best-selling homemade burrata (P395), which is filled with truffle cream cheese. You can enjoy this semi-soft fresh cheese as is or use it as a topping for your favorite pizza or pasta dish.
For a crunchy, creamy work-from-home snack, try Nono's Fried Truffle Cheese Wontons (P225). Mozzarella and cheddar cheese are the stars of this offering, which is drizzled oh-so-perfectly with honey and truffle oil.
If you want something more filling, Truffle, Truly is offering creamy truffle pasta topped with USDA Premium Angus Ribeye Steak seared and basted in Echire butter and herbs for P1,899+. Each order can serve up to 4 people.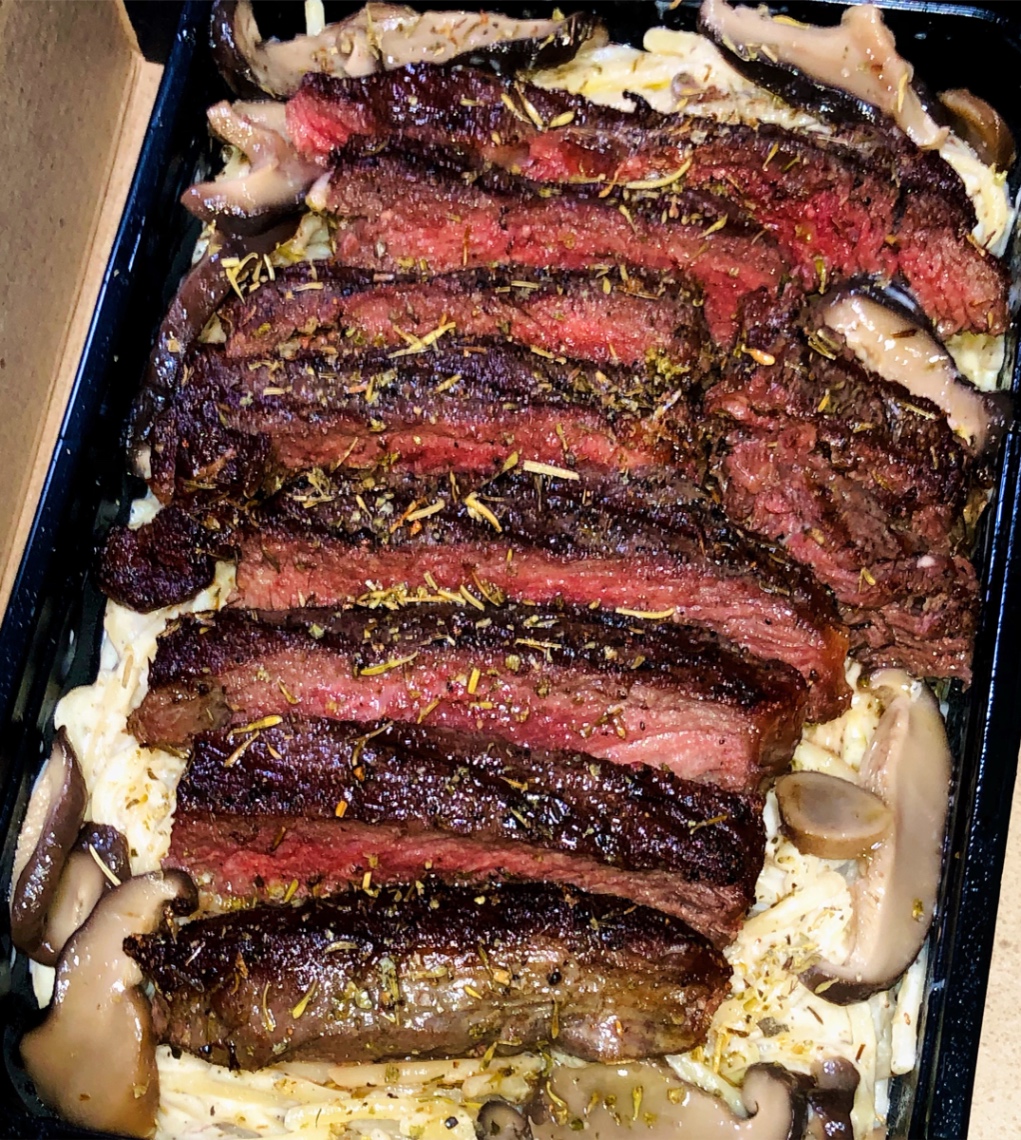 The black truffle mushroom pizza is one of Pizzulu's bestsellers and it's a no-brainer why. Best enjoyed with its signature truffle honey sauce, this 12-inch pizza (good for 3 people) is made with truffle cream, truffle oil, fontina cheese, and Shimeji mushroom.
Let's spice things up a little bit, shall we? Say hello to TRUFF—the famous truffle and organic agave nectar-infused hot sauce that's both vegan and gluten-free from the US. Thanks to Linkage Foods Venture Corporation, TRUFF is now here and its available in three variants: White Truffle Hot Sauce (P1,700), Black Truffle Hot sauce (P950), and Black Truffle Hotter Sauce (P950). You can shop all of these from any SM Superkmarkets or S&R store.
For a sweet finish, you might want to try some black truffle popcorn (P400/100g) by Aroma Truffle Philippines. You'd have a taste of Italian's black summer truffle in each fluffy popcorn coated in bittersweet dark Belgian chocolate. Sounds like a treat!
In the mood to get creative in the kitchen and amp up your own recipes with truffle? Dough & Grocer is selling it in different forms such as the Tartufi Morra White Truffle Oil (P690/55ml), Tartufi Morra White Truffle Butter Cream (P850/70g), Tartufi Morra White Truffle Salt (P590/30g), and Fresh Black Winter Truffles starting at P3,936. It also has a DIY truffle pasta set (P3,590) that comes with Tartufi Morra White Truffle Oil (250ml), Tartufi Morra Salsa Tartufata (80g), Tartufi Morra White Truffle Salt (30g), and Academia Barilla Fusilli (500g).
Article thumbnails from the stores' official pages