All the times Marian Rivera was the ultimate Miss Universe scene stealer - with Dingdong Dantes by her side
Filipinos have long been big fans of the pageant circuit, with hordes of fans following our new set of queens every year. But this time, an addition of a well-loved celebrity to the Miss Universe selection committee has got more heads turning. Yup, it's none other than Marian Rivera.
Since announcing her role as a Miss Universe judge, Rivera has been slaying left and right with flawless photoshoots, gorgeous gowns, and adorable friendships with the all-female panel. Not only has she charmed Filipinos, but it seems like the rest of the universe as well.
Not only that, Dingdong Dantes has been nothing but supportive to his wife, going as far as calling himself her 'water boy' and documenting her journey every step of the way—talk about IG husband goals.
With the 2021 Miss Universe slowing down with the Top 5 finish of Philippines' Beatrice Luigi Gomez, we're taking a look at Rivera's show-stealing moments during the 70th Miss Universe pageant.
A vision in white
After her arrival in Israel on Dec. 7 with Dingdong and the rest of her glam team, Marian was quick to share an update on the sands of Eilat.
With her all-white ensemble and brown tresses, Marian was a real vision before starting her panel committee duties. But did you know that Dingdong took those gorgeous shots?
"Loving the energy here," the actress captioned in the playful photo of her reaching for the camera.
Dingdong also didn't fail to share a candid shot of his wife overlooking the view while reading the profiles of the Miss Universe contestants, to which he wrote: "Enjoying the beautiful view here in Eilat while doing her due diligence to prepare for the big day as part of the Miss Universe Selection Committee."

"I'm proud of you."
Preliminaries stunner
Marian continued to shine in an elegant Jenny Packham gown for the Miss Universe preliminaries, where she made her mark after teaching Miss India 2015 Urvashi Ratuela the moves to her 2009 song Sabay Sabay Tayo.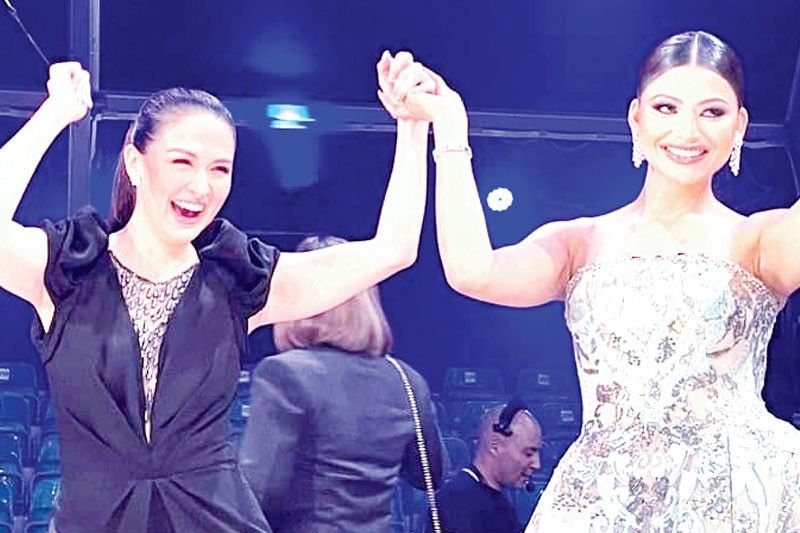 Dantes also posted an over-the-shoulder shot of Rivera beaming from the judges' table and proclaimed that he would be his wife's trusty sidekick for the night.
"I don't mind being this judge's Water Boy during tonight's preliminary event," the actor shared on Instagram.
View this post on Instagram
Winning gold in Francis Libiran pink
Rivera capped off her Miss Universe panel run in a gorgeous baby pink Francis Libiran creation during the pageant's coronation night on Dec. 13.
"Honored to be part of the 70th @missuniverse selection committee. Truly a great experience I'll never forget," Marian shared. "Thank you for the wonderful time ladies and congratulations to all of you."
Marian also shared a group photo with her #MarianxMissU team: manager Tristan Cheng, fashion stylist Melville Sy, hairstylist Vien Nueva, makeup artist Steven Doloso, and Jacqui Cara. Dingdong can be seen rocking a dapper tuxedo.
Aside from her Instagram grid posts, Rivera has also been busy posting reels of her journey—with her latest entry featuring a flawless transition into her final Miss Universe coronation night look.
Other videos have also surfaced Dantes following his wife closely during the coronation night with a camera in tow. If that isn't a supportive documenting husband, we don't know what is.
Meanwhile, as part of Rivera's final interviews with Beatrice Luigi Gomez, Dingdong continued to share more of his supportive behind-the-camera moments via Instagram stories.
In a sweet message, Marian took to Instagram to thank her husband for his unwavering support with a sweet photo.
"Before this trip ends I'd like to thank the best husband I could ask for," Marian captioned. "From being my cheerleader to waterboy, thank you for everything that you do for us."
"Thanks for creating memories with me so that we can look back at them together. Love you!"
Safe travels back, Marian and Dingdong!