Get ready for 7.7 with these local makeup favorites
7.7 is coming and that means you have another chance to clear your online carts.
If you're either a makeup newbie who is looking to fill their makeup kit or a makeup enthusiast who is looking for new products to try, or maybe someone in between, you had come to the right place.
Here, we are dropping our list of recommendations for full-face makeup. Check out these tried-and-tested local makeup products to buy this upcoming sale.
Foundation
Starting with a base, if you haven't tried Detail Cosmetics' Fresh Filter Foundation yet, then you are missing out. This foundation offers buildable light to medium coverage with a skin-like natural finish that is perfect for an everyday look whether you're going to school or to work.
The Fresh Filter Foundation retails at P499 for its full-size 30 ml bottle but you can get selected shades for only P399 on July 7 from 12 m.n. to 2 a.m. on Shopee.
Concealer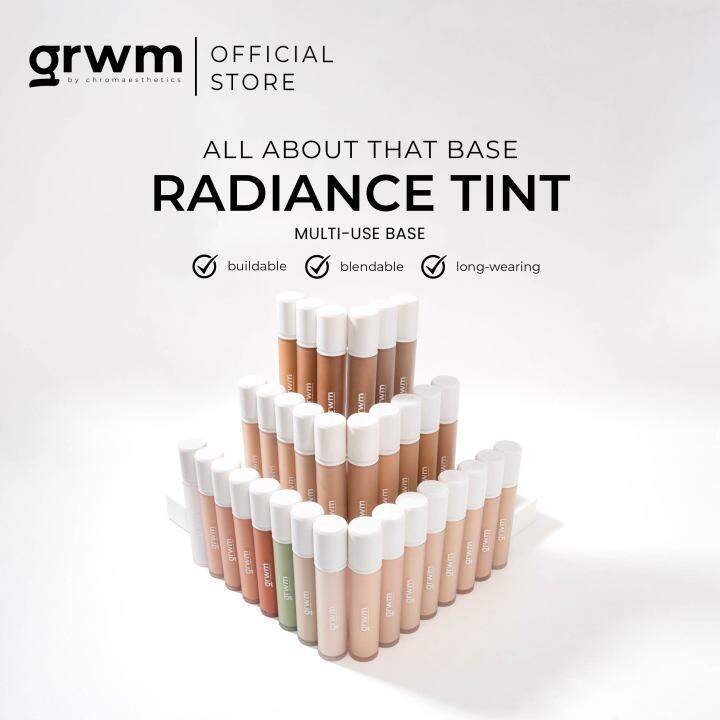 GRWM Cosmetics recently released a 126-piece collection, but in our opinion, one of their stand-out items is the Radiance Tint Multiuse Base (P399).
The buildable multi-use base can be worn as foundation, contour, and highlight, among others, but it is also perfect as a concealer. They have a wide variety of shades, 32 to be exact, that can cater to multiple skin tones.
Brows and Lashes
If you have not yet tried Vice Cosmetics' Gandoll Micro Brow Pencil and Gandoll Volumizing Brow Gel, this is your chance.
Aside from it lasting an entire day, these two are beginner- and budget-friendly with both products retailing for P245 each. You can get the brow pencil for only P170 at midnight on 7.7 on Shopee and level up your eyebrow game.
Of course, an eye look would not be complete without mascara and Vice Co. recently released their new game changer, the SuperMegaExtraDrama Mascara, which will go on sale for only P319 on the upcoming sale.
This tried-and-tested mascara volumizes even the shortest lashes. It is also waterproof and can last all day so prepare to check out and try this product for yourself.
Eyeshadow
Whether you are looking for a beginner-friendly and reliable eyeshadow palette to add to your collection, you cannot go wrong with Squad Cosmetics' Eyeshadow Palettes.
Available in Neutral or Peach, these nine-panned palettes are available for only P159 each this July 7 on Shopee, perfect for students who are on a budget.
Eyeliner
Slay your eye look and sharpen your cat eyes with Careline's long-wearing and smudge-proof felt-tip black eyeliner, Graph-Ink Liner. It's available for P159 this 7.7. from its usual retail price of P220.
The Graph-Ink Liner is also now available in matte and "extreme" variants.
Contour and Blush
Mid-year sales are also an excuse to try something new, and just in time for the sale, BLK Cosmetics has dropped their newest Universal Color Sticks. The multi-use sticks now have five shades: two new shades that can be used for contouring, two blush shades, and one color-adapting blush.
Color Sticks are available for P449 but will be on sale this 7.7 for P359 each.
Highlighter
Whether you are looking to add a bit of glow or elevate your look with a blinding shimmer, Colourette's Shimmertints can help you.
This pigmented liquid highlighter can be your glow bestie for every day or your partner-in-crime for a full-on glam night.
The Shimmertint will be available for P239 on 7.7, a steal from its usual P399 retail price.
Lips
They say lippies complete a look. Luckily, Detail Cosmetics and Happy Skin has come out with new shades.
Detail Cosmetics' Glass Stain, a glossy lip tint, now has six new pinkish-hued shades for shiny and healthy-looking lips.
Each Glass Stain retails at P199 but you can get the original six shades that give a more MLBB healthy look for only P159 on 7.7.
However, if you prefer matte or velvety lips, Happy Skin also released five new Lip Mallow shades. The velvet-like matte tint is available for P599 each and they currently have an online exclusive promo where you can get a free Cloud Pouch for every purchase of any two Lip Mallow tints.
Other sales
While you're browsing through the pages of the brands above, you might want to continue exploring other local beauty options. Keep reading because here are more beauty brands to also consider while you are getting your cart ready!
Sephora Philippines
Sephora is one of the most popular beauty shopping websites, carrying multiple brands. If you're looking for a go signal to purchase your makeup from this iconic store, this is it!
Starting July 6, their Weekend Frenzy Sale lets you get as much as P1,000 off with a minimum spend of P5,500. You can also get a free Sephora Reusable Bag when you buy at least P6,500 worth of products.
The sale is limited to Beauty Pass Members, but you can sign up anytime to be one! The Weekend Frenzy will be until Sunday, July 9, so fill up that online shopping bag and treat yourself this weekend.
Teviant
Teviant's joining 7.7 craze, adding their popular products to the list of sale items. Their best-selling Cheri Mascara will be available for P395 instead of its usual P445 retail price. Their Lip Spells are now at P345, while the Multi-glaze Eyeshadow Pens are at P525. Care for some cat-eye? The Eye Intensifiers are priced at P425, while the Liquid Eyeliner is slashed off to P385.
Teviant will also offer free shipping for a minimum purchase of P999 so don't miss out and start filling up your carts.
Issy and Co.
Issy and Co. will also be having their own End of Season Sale! Aside from discounts on online stores, the brand will be having a live on ThursdayJuly 6, on their official TikTok account, from 8:30 p.m. to 11:30 p.m. wherein customers can make the most out of a 30% off sale storewide and have the chance to win prizes such as the Hydragloss PR Kit that is worth P3,000 or the Space Issy Tote Bag.
Free Lip and Eye Removers are also up for grabs for those who spend at least P599. So what are you waiting for? Head to their TikTok page and register for this worthwhile sale!
Luxx Lash
Love the look of falsies but don't really know how to put them on? Luxx Lash is here.
Luxx Lash offers cruelty-free and reusable magnetic false eyelashes that will give your eyes that extra drama. And this 7.7, they will be putting their dramatic and full style liner and magnetic lashes at 10% off, while their natural syles will be at 5% off.
Sunnies Face
This 7.7, Sunnies Face will also have a storewide sale, including selected shades of their famous Fluffmatte lipstick, which will be down at P317 from its usual P495 retail price. They will also offer 15% off when you reach P1,500 minimum spend, and 10% off for every P1,000.
They also have P77 deals on their Play Paint nail polishes that will definitely help complete your look for the day.
Spotlight Cosmetics
Spotlight Cosmetics is also having their own sale, one that is not limited this July 7! Aside from their "July Monsoon Promo" where customers can get a free skincare set when buying any eye makeup, they are also celebrating this International Lipstick Month by offering all the Spotlight Cosmetic lip items for a buy 1 take 1 promo!
The promo is available for the whole month of July but why not check out tomorrow in light of the 7.7 sale, right?