Facebook Messenger and Instagram Direct to merge
People sliding into your Instagram DMs can now reach you via Facebook Messenger — and vice versa.
Facebook recently announced merging its messaging apps, allowing anyone from either Facebook Messenger or Instagram to directly reach the other without switching windows.
How will this be possible? On its next update, Instagram is basically changing its in-app Direct (paper plane) icon at the top right portion into Messenger's (chat bubble). This will allow IG users to search for and communicate with any Facebook user without having to install Messenger or connect to Facebook with an account.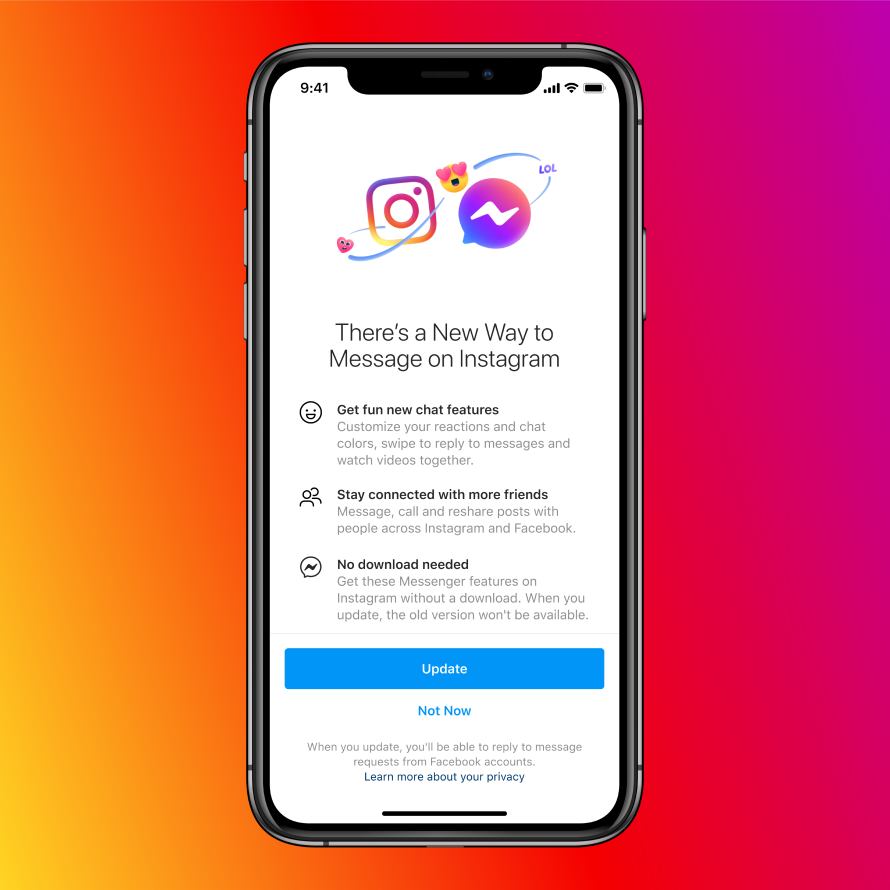 The new update will allow Messenger users to either include message requests to the Chats list or Message Requests folder, or even receive them at all. This will help them manage their privacy better along with tools to report suspicious accounts, calls, and other activities, Facebook (which bought Instagram for $1 billion in 2012) said.
Messenger's update on IG will also include Watch Together to allow those in a video call to watch Facebook Watch, IGTV, and Reels (another future update) together; Selfie Stickers to help users create boomerang stickers with a selfie into the convo; and Animated Message Effects to basically add "visual flair" to messages sent.
The update will also bring in FB Messenger's familiar features, reworking it for IG. These include Vanish Mode (think Secret Conversation), customized chat colors, options to forward messages to anyone, and replying to a specific message within the chat.
"In our research, four out of five people who use messaging apps in the US say that spending more time connecting with friends and family on these apps is important to them, yet one out of three people sometimes find it difficult to remember where to find a certain conversation thread. With this update, it will be even easier to stay connected without thinking about which app to use to reach your friends and family," Head of Instagram Adam Mosseri and Head of Messenger Stan Chudnovsky said in a statement.
"People are communicating in private spaces now more than ever. More than a billion people already use Messenger as a place to share, hang out and express themselves with family and friends."
As Facebook always does, the update will roll out in a few countries first before expanding globally, Mosseri and Chudnovsky clarified.
Facebook, Instagram, and FB Messenger rank among Apple App Store's most popular apps, American social media consulting group Zephoria reported last August.
Altogether, the latest update follows Facebook CEO Mark Zuckerberg's vision last year about integrating its three messaging platforms: FB Messenger, IG Direct, and WhatsApp. Facebook, to those who forgot, also acquired WhatsApp for $19 billion in 2014.
Launched by Zuckerberg in 2004 as a Harvard campus-connecting tool, Facebook has evolved to become one of the world's biggest social media empires. It's the third most visited website following Google and YouTube.
Facebook boasts of 1.62 billion users visiting Facebook daily as of August 2020, Zephoria has reported.
With the company's estimate of 2.47 billion users on Facebook, WhatsApp, Instagram, or Messenger daily on average, Zephoria concluded that more than 3.14 billion people use at least one of these apps monthly on average.
Banner image by Pixabay via Pexels