From grilled banana split to freezer jam: Whip up these fun recipes for Banana Split Day
Happy Banana Split Day!
Banana split, as we know it, is a great mood booster. There's nothing like the goodness of three scoops of ice cream topped with chocolate sauce, and then sandwiched between two banana slices.
No one can deny that the traditional version is enjoyable as is. But on this sweet, sweet day, let's change things up a bit. Instead of having it at your favorite dessert spot, it would also be nice to get creative at home, when you have the time.
We went on the hunt online for some fun recipes you might want to try. Here's what we found (from grilled banana split to freezer jam), and here's how you can make them.
Grilled Banana Split
Recipe by Savory Online
Ingredients:
4 bananas
1/4 cup mini marshmallows
1/4 cup mini chocolate chips
1/4 cup chopped hazelnuts
1 (13 oz) can dairy whipped topping
Steps:
Set the grill to medium. Leaving the peel on, slice into each banana lengthwise taking care not to slice all the way through. Fill the slit of each banana with 1 tbsp mini marshmallows, 1 tbsp chocolate chips, and 1 tbsp chopped hazelnuts. Wrap each banana in foil.

Set foil-wrapped bananas on the grill over medium heat. Cook for 7–10 min., turning once, or until chocolate and marshmallows are melted. Unwrap, and top with whipped topping.
Banana Split Brownie Bars
Recipe by Betty Crocker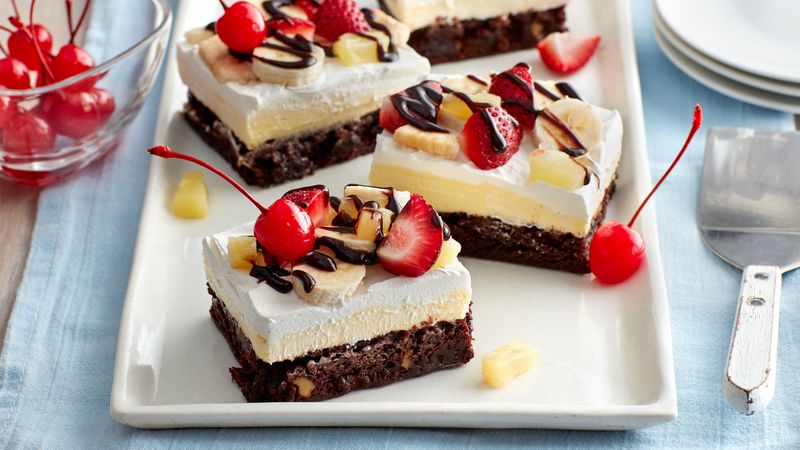 Ingredients:
Brownie Base
1

box (18.3 oz) Betty Crocker™ fudge brownie mix

Water, vegetable oil, and eggs called for on brownie mix box for cakelike brownies

1/3

cup coarsely chopped walnuts
Filling
2

boxes (4-serving size each) Jell-O™ banana cream instant pudding and pie filling mix

2 1/2

cups cold milk

1

container (8 oz) Cool Whip frozen whipped topping, thawed
Toppings
4

medium bananas, peeled and sliced (about 3 1/2 cups)

1

cup chopped fresh strawberries

1/2

cup pineapple tidbits in juice, drained, patted dry (from 8-oz can)

2

tablespoons chocolate fudge sauce

18

maraschino cherries with stems, patted dry
Steps:
Heat oven to 350°F. Grease bottom of 13x9-inch pan with shortening or cooking spray. Make brownie batter as directed on the box for cakelike brownies. Stir in walnuts. Spread in pan. Bake 22 to 25 minutes or until the toothpick inserted 2 inches from the side of the pan comes out almost clean. Cool completely on a cooling rack, about 1 hour.

In a large bowl, beat dry pudding mixes and milk with whisk for about 2 minutes or until thick. Stir in 1 cup of the whipped topping. Spread over brownie. Spread remaining whipped topping over the pudding layer. Cover and refrigerate for 4 hours.

When ready to serve, top with bananas, strawberries and pineapple. In a small microwavable bowl, microwave chocolate fudge sauce uncovered on High for 10 to 20 seconds or until thin enough to drizzle. Drizzle warmed sauce over a brownie with a fork. Cut into 6 rows by 3 rows. Top each bar with a cherry. Cover and refrigerate any remaining bars.
Flaming Banana Split
Recipe by Chef Michael Smith via CBC
Ingredients:
Flaming Banana Split
1/4 cup butter

1/2 cup brown sugar

4 bananas, ripe

1/4 cup dark spiced rum



Chocolate Sauce
2 cups whipping cream
1/4 cup cocoa powder
1/4 cup brown sugar
1 tbsp pure vanilla extract
4 (oz) bittersweet chocolate, chopped
2 tbsp rum
Strawberry Sauce
2 cups frozen strawberries

1 cup strawberry jam

1 cup orange juice



Chocolate Whipped Cream
1 cup whipping cream

2 tbsp cocoa powder

1 tbsp white sugar

1 tsp pure vanilla extract
Steps:
Preheat your largest heaviest skillet over medium-high heat. Toss in the butter. As soon as it begins to melt and sizzle add in brown sugar. Swirl around, once melted add in bananas and swirl and flip until coated. Pour the rum over the bananas, carefully make sure the rum gets mixed all over the pan. Ignite by holding a long candle near the edge of the pan. Hold steady as flames erupt. Sautee a minute or so as flames die down. Assemble banana splits.
For the chocolate sauce: Add cream, cocoa powder, sugar, and vanilla into a small saucepan. Whisk constantly and bring to a slow steady simmer. Remove from heat, add in chocolate and rum, stir until smooth, chill.
For the strawberry sauce: Add all strawberry sauce ingredients to a small saucepan. Stir over medium heat and bring to a slow simmer. Remove from heat when cooked through and carefully puree until smooth, pour into a jar, and chill.
For the whipped cream: Whisk the cream, cocoa powder, sugar, and vanilla until firm, creamy peaks form (about 3-5 minutes by hand or less with a mixer).
Top it with your favorite vanilla ice cream, crunchy chocolate sprinkles, crumbled vanilla wafers, and maraschino cherries.
Banana Split Cake
Recipe by Spaceships and Laser Beams
Ingredients:
2 cups of sifted powdered sugar
1¼ cups of softened butter
1 teaspoon of vanilla extract
4 medium bananas
9 ounces of Cool Whip
½ cup of chopped pecans
4 ounces of maraschino cherries
20-ounce can of crushed pineapple, well-drained
2 cups of graham crackers, crushed
Steps:
Melt ½ cup of butter and mix together with 2 cups graham cracker crumbs. Pat this crust mixture firmly into the bottom of a 9×13-inch pan.

Beat powdered sugar, the rest of the butter, and the vanilla extract on medium speed. Continue beating for 5 minutes. Once this is all well incorporated, spread the mix evenly over the graham cracker crust. Put the baking dish in the fridge to chill for 30 minutes.

When the cake is done chilling, it's ready for some for the next layer. Drain out all the pineapple juice from your can of crushed pineapples and spread the crushed pineapples all over the chilled cream cake mixture.

Slice the bananas and lay the banana slices out over the pineapple layer.

Over the pineapple layer, apply a generous layer of Cool Whip then sprinkle on the chopped pecans.

Cover the cake with plastic wrap and refrigerate for 6 hours or overnight.

Garnish with sliced cherries before serving.

Drizzle on melted chocolate or

hot fudge

or sprinkle on some shaved chocolate curls, and it'll be just like the sundae treat you've always loved.
Banana Split Freezer Jam
Recipe by Food.com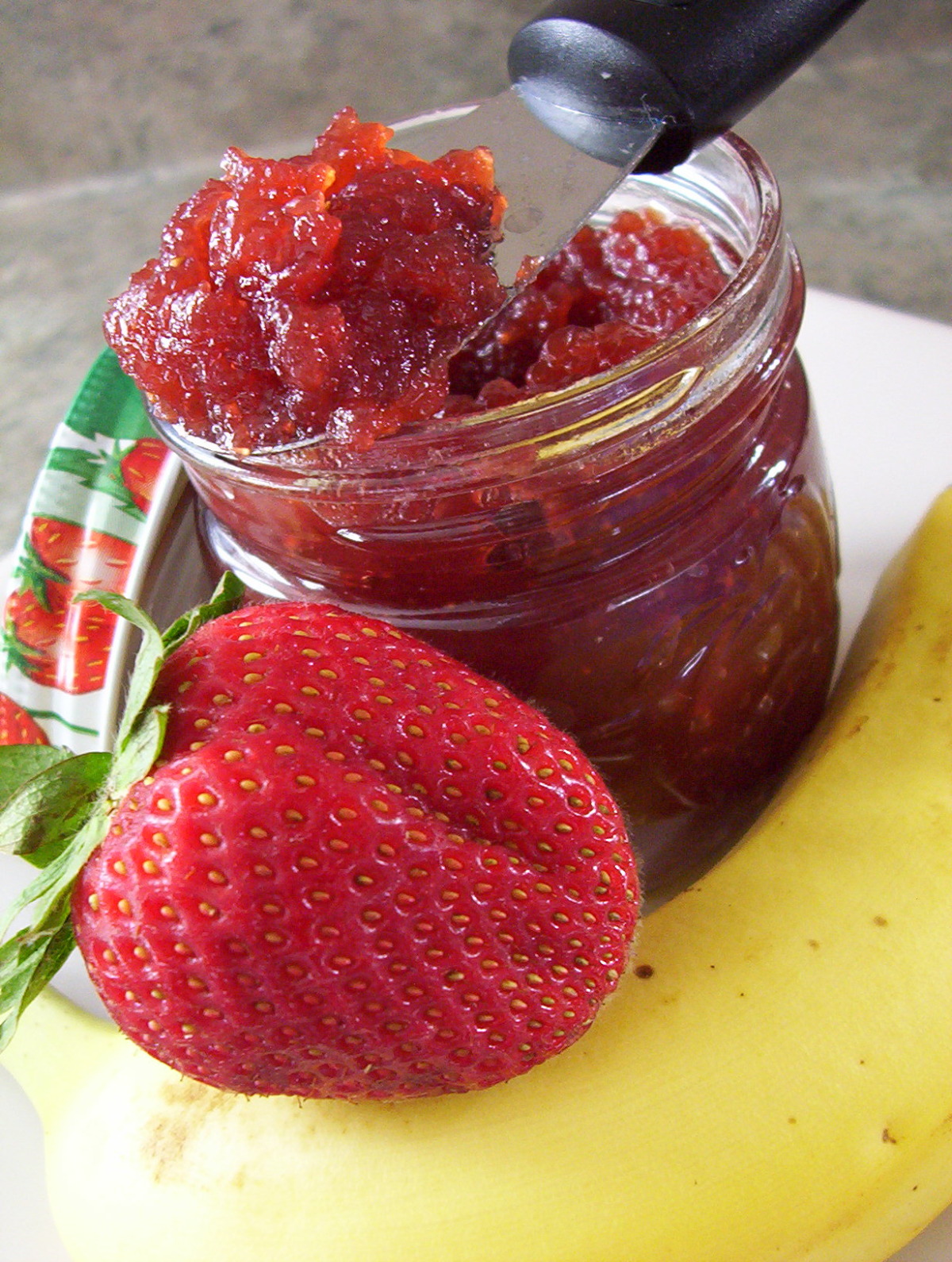 Ingredients:
2

cups crushed

strawberries

(about 1 qt)

1/2 cup mashed

banana

(about 2 bananas)

2

tablespoons chocolate syrup

1

box sure.jell fruit pectin
Steps:
Mix exactly 2 cups crushed strawberries and 1/2 cup mashed bananas in a large bowl.
Stir in sugar and lemon juice; let stand for 10 minutes, stirring occasionally.
Add chocolate syrup; mix well.
Mix water and pectin in a small saucepan.
Bring to a boil on high heat, stirring constantly.
Continue boiling and stirring for 1 minute.
Add to the fruit mixture; stir for three minutes or until sugar is dissolved and no longer grainy.
(A few sugar crystals may remain.) Fill clean plastic containers immediately to within 1/2 inch of tops.
Wipe off top edges of containers; immediately cover with lids.
Let stand at room temperature for 24 hours.
Jam is now ready to use.
Store in the refrigerator for up to 3 weeks or freeze extra containers for up to 1 year.
Thaw in the refrigerator before using.
Article thumbnails from Savory Online, Betty Crocker, Food.com, CBC, and Spaceships and Laser Beams