4 superb desserts you can make with mac and cheese
An ooey-gooey mac and cheese is an incredible thing.
While this cheesy delight makes for a nice merienda as is, a variety of toppings like crunchy bacon bits, steak, and vegetables can turn it into a filling meal. But did you know there's another side of this afternoon snack that's worth exploring? Hint: it's nothing short of sweet.
I didn't know this until my good friend messaged me about Van Leeuwen's Kraft Mac and Cheese Ice Cream, which combines the goodness of cheese powder when it's mixed with an ice cream base. "It's one of those foods that's so uniquely compelling that you're going to be confused while eating it, but definitely don't want to stop," as food and dining website Eater put it.
Unfortunately, it's only available for a limited time and it can't be easily accessed here in the Philippines. But all thanks to cooking websites, there are other desserts that adventurous foodies can make. Let me share them with you, should you also want to step up your game on this special day.
From cake to deep-fried ice cream, these wonderful recipes make mac and cheese the star.
Mac and Cheese with Berry Compote
Recipe by Tastemade
Ingredients:
1 cup heavy cream
1 1/2 cups whole milk
4 cloves, whole
1 pinch nutmeg
2 teaspoons cinnamon, plus more for sprinkling
3 tablespoons sugar, plus more for sprinkling
1/8 teaspoon vanilla extract
1 box pasta, shape of your choice
1/3 cup all-purpose flour
1/3 cup unsalted butter
1 pinch kosher salt
1 (8 ounces) container mascarpone
Berry compote
Whipped cream
Vanilla ice cream
Procedure:
Preheat oven to 375°F.
Combine cream, milk, spices, sugar, and vanilla in a small saucepan, and heat on low to infuse flavors, about 10 minutes.
Bring a pot of salted water to a boil. Cook pasta for 2 minutes less than recommended cooking time. Strain, and run cold water through it to stop cooking.
In a medium saucepan, combine butter and flour and cook to create a roux. Once the roux comes together, keep cooking until butter starts to brown and is fragrant.
When the roux is done, add milk mixture in batches through a strainer while whisking. Continue adding, cooking, and whisking until your sauce won't thicken anymore.
Turn heat off and stir in mascarpone. Add pasta and stir to combine.
Transfer mixture to a 9x13 baking dish, sprinkle the top liberally with cinnamon and sugar, and bake* for 15-20 minutes, until bubbling.
Serve with fresh berry compote, whipped cream, and/or vanilla ice cream.
*Note: Mac and cheese can be kept for up to 3 days in the fridge before baking.
Mac and Cheese Cake
Recipe by Food Network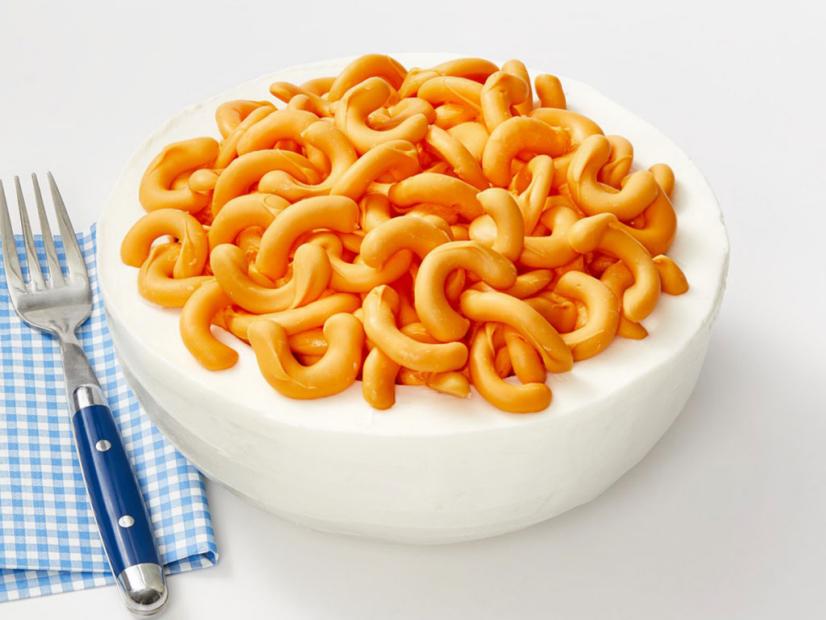 Ingredients:
cooking spray

1 15- to 16-ounce box yellow cake mix (plus required ingredients)

1 cup orange candy melts

1 cup yellow candy melts

2 16-ounce tubs white frosting

Orange and yellow gel food coloring
Procedure:
Preheat the oven to 325 degrees F. Coat a 2 1/2-quart ovenproof bowl with cooking spray. Make the cake mix as directed; pour the batter into the bowl.
Bake the cake in the bowl until a toothpick inserted into the middle comes out clean, 50 minutes to 1 hour. Let cool slightly, then remove from the bowl to a rack to cool completely.
Meanwhile, make the macaroni: Melt the orange and yellow candy melts together in the microwave, stirring. Let cool slightly.
Transfer the melted candy to a piping bag fitted with a 1/4-inch round tip. Pipe 50 to 60 elbows onto a parchment-lined baking sheet. Let set, about 20 minutes.
Put the bowl cake right-side up. Use a small knife to score a rim around the top of the cake, about 1/2 inch in from the edge. Carve out a little of the cake inside the rim to create a bowl.
Flip the bowl upside down onto a separate parchment-lined baking sheet and cover the sides with frosting, leaving the middle bare. (You'll flip it and this will become the bottom.) Freeze until firm, about 1 hour.
Flip the bowl cake right-side up. Cover the rim with more frosting, reserving about 3/4 cup.
Tint the reserved frosting orange using orange and yellow food coloring. Transfer to a piping bag fitted with the 1/4-inch round tip. Pipe squiggles of frosting inside the rim of the cake.
Remove the candy macaroni from the baking sheet and arrange it on top of the cake.
Deep-Fried Mac and Cheese Ice Cream
Recipe by Food 52
Ingredients:
1/3

cup

broken-up dry pasta

2

cups

heavy cream

1

cup

whole milk

2

tablespoons

powdered milk

1

cup

sugar
1/4

teaspoon

dry ground mustard seeds
1/8

teaspoon

paprika
1/2

cup

grated cheddar cheese

6

slices American cheese
1 1/2

teaspoons

white cooking wine
3 egg white
3 cups cornflake crumbs
oil for deep frying
Procedure:
Boil the pasta until it is overdone. Seriously, boil it until it's disgustingly soft.

Drain the pasta, reserving the liquid. Puree the pasta in a blender with 2 T of reserved water (more if needed). It's okay if the mash is a little lumpy—you'll strain it later.

Heat pasta puree, cream, milk, powdered milk, sugar, mustard, paprika, and cheeses over medium heat. Whisk until sugar dissolves and cheeses melt. Continue whisking occasionally until the mixture almost—but not quite—boils. As you whisk, mash apart any large chunks of pasta. Remove from heat.

Strain the mixture into a medium bowl. Discard the unincorporated pasta chunks and any unmelted cheese.

Cover and chill for at least two hours, preferably longer (up to twenty-four hours).

Add the cooking wine and churn according to your ice cream maker manufacturer's instructions.

Pack into a freezer-safe container and freeze for at least four hours.

When the ice cream is set enough to scoop, form it into balls, each using 1/3 cup to 1/2 cup of ice cream. (I like to scoop the ice cream into a sandwich bag so that I can squeeze and shape it through the plastic, then I turn the bag inside out to release the ice cream.) Set the scoops on a baking sheet or freezer-safe cutting board. Cover with plastic and return to the freezer until set again.

When the scoops are frozen into shape, beat the egg whites until foamy and set aside. Pour the cornflake crumbs into a wide bowl.

Coat the scoops in egg whites, then roll in cornflake crumbs until completely covered. (More, smaller, scoops will require more beaten egg whites and cornflake crumbs. Refresh your supply as you go, as needed.)

Re-freeze the coated scoops until very hard.

Heat a deep-fryer to 375 degrees. Fry the scoops for a few seconds, just long enough to crisp the outside. Serve immediately.
Mac and Cheese with Apple Slices and Brioche Crumbs
Recipe by Sorted Food
Ingredients:
3 tbsp sugar

1 vanilla pod

100 g macaroni

200 ml whole milk

3 egg yolks

1 tbsp sugar

100 g cheddar cheese, grated

1 Bramley apple

50 g brioche crumbs
Ingredients:
Heat a medium saucepan of water and add 3 tbsp of sugar. Slice the vanilla pod in half, scrape out the seeds and add half of them to the water with half of the pod. When the water is boiling add the pasta, stir and cook for about 8 minutes, until just cooked through.
Heat the milk with the remaining half of the vanilla seeds and pod. Whisk the egg yolks with the 1tbsp of sugar, then slowly pour over the hot milk, whisking continuously. Pour the mix back into the saucepan and stir over medium heat until it thickens. Remove from the heat and add the grated cheese. Stir it in until it's completely melted.
Tip the cooked pasta into the sauce and combine well.
Peel and core the apple. Slice it in half, then cut it into 2mm slices. Preheat a grill to high.
In ramekins or small ovenproof dishes, spoon a little of the mac n' cheese mixture to fill it almost halfway. Arrange a layer of the raw apple slices, then top with more mac n' cheese. Finish with a topping of brioche crumbs and a little extra grated cheese.
Place the ramekins under the grill for a minute or two, until the bread and cheese are crisp and golden. Serve.
Article thumbnails from Food Network, Tastemade, Sorted Food, and Food 52